Enjoy the Stunning Sunrise from the Purwosari Hill
---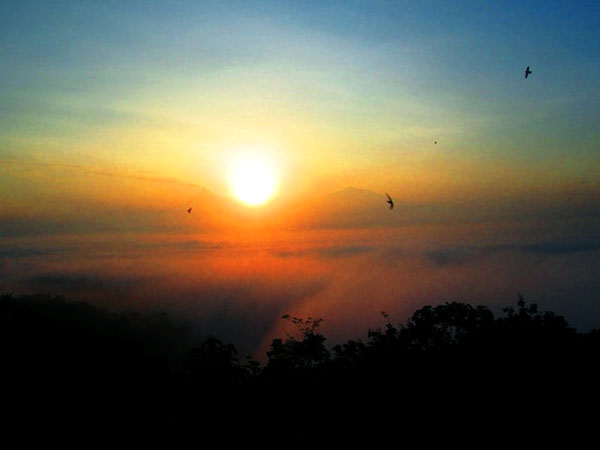 Purwosari Hill is part of the interesting place must visit in Magelang and Borobudur area. Other tips to visit to enjoy the sunrise besides another hill, this Purwosari Hill can be the exact hill to visit. The area is huge and width with the foggy nuance and big plant trees across the hill. The government before didn't realize that the Purwosari hill would be as famous as Borobudur, so that, right now on, this Purwosari hill is opened as a public tourism.
Purwosari hill before, was named as Cemuri mas, but after it become famous, the people change it as Purwosari hill. This spot of sunrise become the good one over another hill, from this spot you can see the whole top of the Borobudur temple from the other side. The route to reach the hill is easier than other hills; it will take 15 minutes to hike with the low ascent, so this hill will be high recommended for any ages of the people.
To enjoy the sunrise, you just have to prepare yourself with the warm clothes due to the lowest temperature. Also don't forget to bring your camera, and video recorder to keep the beautiful scenery during the sunrise. Up of the hill you can also enjoy the tea and a cup of coffee to be your sweetest company during the sunrise. You will never regret to go to this hill.
How to go there:
You can reach the hill by passing the route from Punthuk Setumbu hill, or another route from Gereja Ayam. If you want to go by catching a bus, you can pass the same way to go to Punthuk Setumbu (by passing the main road as Jalan Raya Borobudur Salaman).
The best thing to go
Try to come earlier before the sunrise. You will take approximately 15 minutes to hike the hill, but you have to fill the guest book before entering the hill complex. Don't forget to bring your flash light to help you hike the hill.

Latest News
One of the many Dutch heritage forts, Van Der Wijck Fort is unique because the entire building is made of red brick. You've seen? This fort with an octagonal plan looks more charming with its red color, compared to Dutch forts which are generally colorless or white. It looks like the fort from the front and inside uses red bricks, but still with the characteristics of a Dutch fort in Indonesia which has a large building structure, such as windows, doors and rooms. With an area of 3606,625 square meters,…
---
Magelang has a number of temples as the favorite tourist destinations. Besides Borobudur, you can visit several other places, such as tourist villages. There are several tourist villages around Borobudur Temple with a unique and interesting atmosphere. In addition to saving nature, you can also get to know the culture behind it. Temanggung VillageTemanggung Village was viral because it was called Nepal van Java. The view of the village at the foot of Mount Sumbing is really epic. Tanjungsari VillageIf you are interested in the process of making honey, you…
---
Punuk Sapi BeachPunuk Sapi Beach is also popularly known as Pantai Lemah Abang which means "red land beach". It is named so because this beach is indeed filled with mounds to hills with red soil that at first glance looks like a cow's hump (punuk sapi is cow's hump in English). This beach has black sand, but it is also beautiful like the white sand beaches. There are hammocks and swings that you can use to relax, as well as take pictures from a height. This beach is located in…
---
Arjuna Temple complex is the most photographed and visited of the surviving temples on the Dieng Plateau. Situated just a few hundred meter from the homestays in Dieng village, they are an obvious first stop on a tour of the sights in the area. Though they are far from the most imposing of Javanese temples, they are the earliest surviving Hindu temples in Central Java, so they are of great importance historically. Built a century or two before the great temples around Yogyakarta and Magelang, they mark the original phase…
---